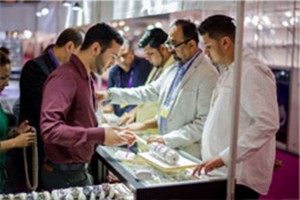 Eurofashion Bijoux at Jewelers International Showcase Shows, JIS.
Jewelers International Showcase (JIS), in its fourth decade of serving the Jewelry Industry, is the largest Independent Jewelry Tradeshow in the Americas.
Leading world-wide Manufacturers and Wholesalers of Jewelry market and sell their products and services at our Shows to thousands of Jewelry Trade Attendees from 50 Countries in the Caribbean and Latin America; plus Florida and 42 other USA States.
EFB has reached an agreement with JIS organizers to do a special promotion for the European manufacturers interested in exhibiting in this fair to cover Florida, south of USA and South America markets.
The JIS organizers want to promote the fashion jewelry "Made in Europe" and the fashion accessories area at his show.
We believe this is a great opportunity for European producers entering the US market and a great alternative to commercial growth.
It is not only hiring square meters in a show but it means establishing a comprehensive partnership agreement between EFB and JIS show taking advantage of the organizers' know-how in the creation of a specific promotion plan for EFB manufacturers and giving them the information about how the US fashion jewelry market works.
At JIS' largest show in October, Buyer attendance is typically over 4000 Jewelry Firms (12,000+ Attendees) with approximately 37% of those coming from about 50 countries in the Caribbean and Latin America, 48% from Florida and 15% coming from 44 other USA States.
One major uniqueness of JIS Shows is that JIS allows the delivery of Jewelry right on the Show Floor, leaving the decision for factory shipment or delivery on the Show Floor to Buyers and Exhibitors alike.
JIS Shows are open only to buyers from active credentialed Jewelry Retailers and finished Jewelry Wholesalers.
Buyers must be Active Retailers of Jewelry or Wholesalers of Finished Jewelry. Wholesalers of finished jewelry must pre-register AT LEAST 30 DAYS before each show. Manufacturers and Loose Stone Dealers will not be admitted as Buyers. Your firm must be an active Retailer or Wholesaler of finished Jewelry, not loose stones.
Your Company's Credentialing Requirements (BUYER REQUIREMENTS)
Provide a copy of at least one of the following documents:
JBT Listing: Listing in Jewelers Board of Trade (JBT) Red Book as a Retailer or Wholesaler of Finished Jewelry. JBT listed Wholesalers not showing as a "Wholesaler of Finished Jewelry" must provide "Invoices" as below.
Invoices: Produce current invoices for a combined total of US $15,000.00 from a minimum of four different Jewelry Manufacturers, Wholesalers, Importers, etc. confirming your firm's purchase of FINISHED JEWELRY. (Please note: The US $15,000.00 is a TOTAL of the required current invoices, NOT $15,000.00 from each supplier).
Buyer Registration
On-Line Buyer Registration is a three step process, each of which must be completed prior to sending your registration request to JIS.
http://www.jisshow.com/ForBuyers/BuyerOnlineRegistration.aspx
AVOID LONG LINES AT THE SHOW, REGISTER NOW!
Show Hours - JIS Miami Beach Convention Center:
Buyer Show Days Buyer Show Hours
October 11th, Saturday 10 AM - 6 PM
October 12th, Sunday 10 AM - 6 PM
October 13th, Monday 10 AM - 6 PM
October 14th, Tuesday 10 AM - 4 PM
Buyer Registration Hours: On-Site Buyer Registration is available One Hour Prior to Show Opening and closes 30 Minutes Prior to Show Close.
Directions
Miami Beach Convention Center:
The Convention Center is located at 1901 Convention Center Dr., just east of Meridian Avenue at 17th St. and just north of the world famous Lincoln Road Walking Mall.